Wholesale Graceful Poly Chiffon Textile for a Wide Variety of Items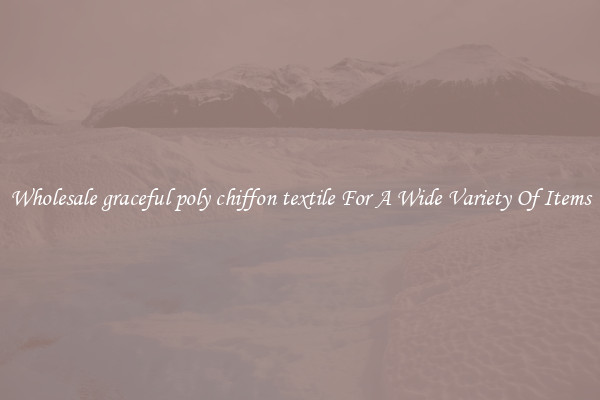 Poly chiffon is a lightweight and sheer fabric that is commonly used in the fashion industry for its graceful drape and luxurious feel. It is a synthetic fabric made from polyester fibers, which gives it a durable and wrinkle-resistant nature. Wholesale poly chiffon textiles are in high demand due to their versatility and ability to enhance the look of different items.
When it comes to clothing, poly chiffon is a popular choice for creating flowing and ethereal garments. Its lightweight nature allows for easy movement and a graceful silhouette. From dresses to blouses, skirts to scarves, poly chiffon adds an element of elegance and femininity to any outfit. Moreover, its sheer quality can be layered over other fabrics or used as an overlay to create a more textured and dimensional look. This fabric is also ideal for creating wedding gowns, bridesmaid dresses, and eveningwear, as it adds a touch of glamour and sophistication.
Beyond fashion, poly chiffon textiles are also widely used in the interior design industry. Its sheer nature makes it a perfect choice for creating curtains and drapes that allow natural light to filter through while still maintaining privacy. Curtains made from poly chiffon can give a room an airy and romantic feel. Additionally, this fabric can be used for creating decorative pillows, tablecloths, and chair covers, adding a touch of elegance to any space.
Poly chiffon is not limited to clothing and home decor. It is also commonly used in the production of dance costumes and theatrical outfits. Given its lightweight and drapey nature, it is an excellent fabric for creating costumes that flow and twirl with the dancer's movements.
Wholesale poly chiffon textiles are beneficial for businesses that require a large quantity of fabric to meet their production needs. By purchasing these textiles in bulk, one can save on costs and have a consistent supply of material. Moreover, wholesale fabric suppliers often offer a wide range of colors and prints to choose from, allowing designers and manufacturers to explore their creativity and cater to different aesthetic preferences.
In conclusion, poly chiffon is a versatile fabric that is highly sought after in various industries, including fashion, interior design, and performing arts. Its graceful drape, lightweight nature, and luxurious appeal make it a popular choice for creating a wide variety of items. Whether it's clothing, home decor, or dance costumes, wholesale poly chiffon textiles offer a cost-effective solution for businesses while delivering a touch of elegance and sophistication to their creations.