Durable Best Electric Switches in India: A Perfect Blend of Functionality and Design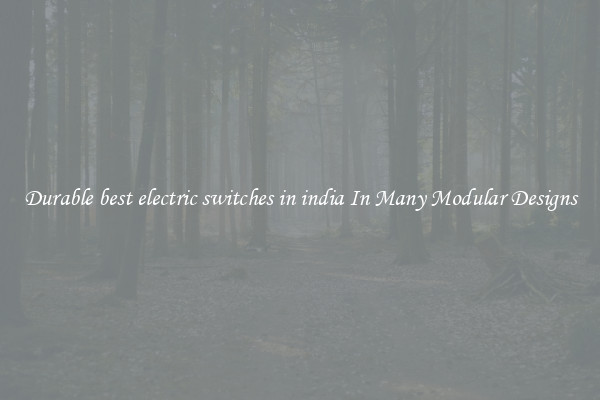 When it comes to choosing the right electric switches for your home or office, durability is often one of the most important factors to consider. After all, nobody wants to deal with frequent replacements or repairs due to substandard quality. Thankfully, the Indian market offers a wide range of durable electric switches that not only last long but also boast a plethora of modular designs to suit various aesthetic preferences.
One of the most reliable and trusted brands in India for electric switches is Havells. With its vast range of innovative and high-quality electrical products, Havells has become a go-to choice for many homeowners and professionals alike. Their durable electric switches come in a wide range of modular designs, ensuring that you will find the perfect fit for your needs.
The Crabtree range of switches, a part of the Havells family, offers a diverse selection of switches that are both durable and aesthetically appealing. Made with the finest materials and advanced technology, these switches are built to withstand wear and tear even in high-traffic areas. From simple rocker switches to sleek touch-sensitive switches, the Crabtree range offers a variety of options to match your interior design.
Another noteworthy brand in the Indian market is Anchor. Anchor electric switches are known for their durability and long-lasting performance. Their switches are manufactured using high-quality materials and go through rigorous testing to ensure durability and safety. The modular designs offered by Anchor cater to a wide range of tastes, from elegant and minimalist to bold and artistic.
Schneider Electric is yet another brand that has made a name for itself in the Indian market for its durable electric switches. With their cutting-edge technology and innovative designs, Schneider Electric switches offer both functionality and style. Whether you prefer sleek and sophisticated switches or ones with a more traditional look, Schneider Electric has a range of durable options to choose from.
Apart from the trusted brands mentioned above, there are several other players in the Indian market that offer durable electric switches in a multitude of modular designs. Some popular options include Legrand, Polycab, and Wipro. These brands have established their reputation for providing high-quality switches that are built to last.
Choosing the right electric switches should not be limited to their durability alone. It is equally essential to consider factors such as safety, energy efficiency, ease of installation, and compatibility with your existing electrical setup. In this regard, it is always advisable to consult a professional electrician or refer to the guidance provided by the manufacturers.
In conclusion, the Indian market offers a plethora of durable electric switches with a multitude of modular designs. Brands like Havells, Crabtree, Anchor, and Schneider Electric provide a wide range of options to suit various aesthetic preferences. When selecting electric switches, it is important to prioritize durability, safety, and compatibility with your electrical setup to ensure a long-lasting and hassle-free experience.