If you're in the market for a reliable and powerful wood chipper, then look no further than Hightech Wholesale's 40 hp wood chipper. And the good news is that it's currently on a discount sale, making it an even more tempting purchase for those looking to tackle their wood chipping needs.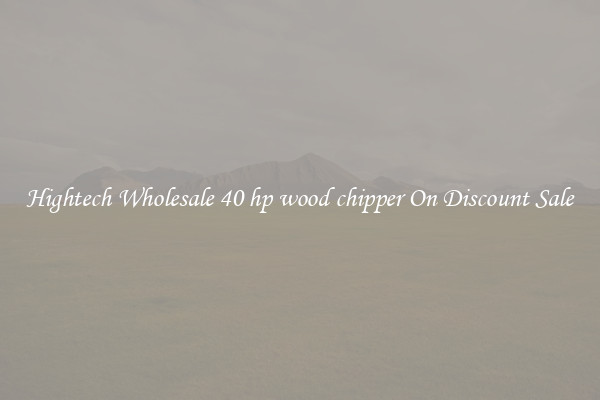 Wood chippers are essential equipment for many outdoor projects. Whether you're a professional landscaper or simply have a lot of trees on your property, a quality wood chipper can make a huge difference in your workload. Hightech Wholesale's 40 hp wood chipper is designed to handle even the toughest wood chipping jobs with ease.
One of the standout features of this wood chipper is its powerful 40 hp engine. This ensures that no matter the size of the branches or logs you're feeding into it, this machine will have no trouble processing them into high-quality wood chips. The engine is also designed to be fuel-efficient, meaning you can get more work done without constantly refueling.
In terms of efficiency, this wood chipper excels. It comes with a high capacity hopper, allowing you to load more branches and logs at once, saving you time and effort. The chipper can handle branches up to 10 inches in diameter, making it suitable for a wide range of wood chipping tasks. The discharge chute is also adjustable, allowing you to easily direct the wood chips where you want them to go.
Durability is also a key factor when choosing a wood chipper, and Hightech Wholesale's 40 hp wood chipper delivers in this aspect as well. It is engineered with heavy-duty steel construction, ensuring that it can withstand the rigors of regular use and last for years to come. The blades are made of high-quality materials that are easy to replace when necessary.
To make your purchasing decision even easier, Hightech Wholesale is currently offering a discount sale on this wood chipper. This means that you can get this powerful machine at a more affordable price than usual, saving you money while still getting a top-quality product.
In conclusion, if you're in need of a high-performance wood chipper, Hightech Wholesale's 40 hp wood chipper is an excellent choice. With its powerful engine, efficiency, durability, and the current discount sale, it offers exceptional value for your money. Don't miss out on this opportunity to get your hands on a top-notch wood chipper and make your wood chipping tasks a breeze.